Posted: April 30, 2018
This past January, the consulting arm of the Davey Tree Expert Company formed a new corporation called Davey Resource Group, Inc. Formerly a division of parent company The Davey Tree Expert Company, DRG was born out of the company's research and development team in order to explore new services and meet the changing needs of our clients in the municipal and utility markets. Since 1991, DRG has grown into a 1,300 person firm focused on providing solutions through innovation and expertise.
Davey Resource Group, Inc. currently operates in 3 key markets:
Environmental Consulting, Utility Vegetation Management and Utility Asset Management, which includes ecosystem restoration and urban and community forestry services.

To continue to grow the Environmental Consulting segment of our business, Davey Resource Group, Inc. organized into strategic regional teams, and is complemented by Davey subsidiaries Wetland Studies and Solutions, Inc. and Conservation Land Stewardship, LLC. Our new structure will allow us to be closer to our clients, to build stronger relationships, and to better provide solutions that our clients require. In order to support that model, we will have more than 20 area offices, each striving to offer a wide variety of environmental consulting services. We will also have project development personnel assigned to certain area offices and are better positioned to leverage the strengths of The Davey Tree Expert Company's tree care and commercial grounds management offices that also operate in a regional model.

Area offices are organized into strategic regions and each major region has a regional operations manager.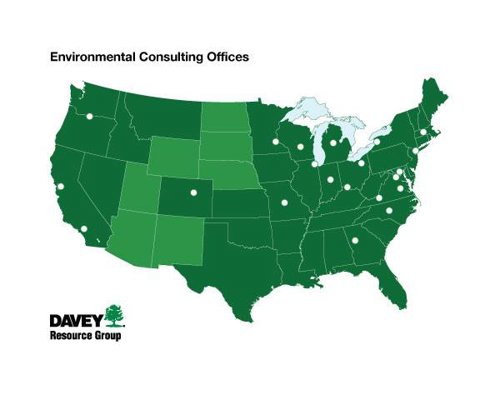 Gainesville, VA (WSSI)
Millersville, Maryland (WSSI)
Richmond, VA (WSSI)
Roanoke, VA (WSSI)
Elmhurst, IL (Conservation Land Stewardship)
Long Grove, IL (Conservation Land Stewardship)
Indianapolis, Indiana
Kent, OH
Cincinnati, OH
Buffalo, NY
North Carolina
St. Louis, Missouri
Michigan
Worcester, Massachusetts
New York City, NY
PNW (Seattle/Portland)
Northern CA (Bay Area and Sacramento)
Southern CA (San Diego and Los Angeles)
Denver, CO
Minneapolis, MN (S&S Tree)
Atlanta, GA (Arborguard)
Milwaukee, Wisconsin