Posted: March 04, 2019
Davey teams are noted for productivity and innovation, but getting our dedicated teams together opens the door even wider for improved results. Early this February, restoration teams from DRG's Kent, Ohio; Southern Ohio; Michigan; Indiana; and Chicago offices met in Kent for three days to train together in person, comparing notes and working together to improve and standardize safety awareness and field techniques.
The event was the brainchild of Kent, OH Lead Environmental Scientist Bruce Swanger. "I work closely with all of the teams. Last year, we put together a list of things that come up routinely," he explains. "I had the idea to get all the teams together so we could more easily troubleshoot, share ideas, and develop solutions that would help everyone work more safely and efficiently." Better training and preparation by our teams result in better services to our clients.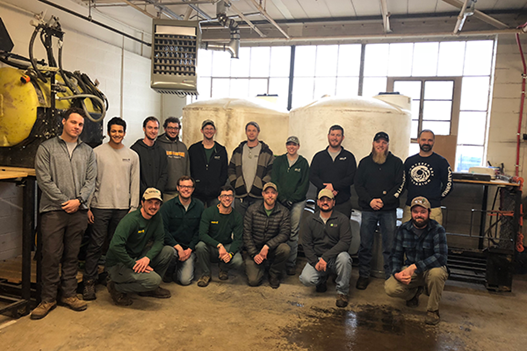 Getting a Jump Start on Documentation
Training together in person provided a unique opportunity to standardize approaches to different kinds of projects and safety protocols. In addition to DOT compliance and other aspects of safety awareness, the group developed new training on a mini excavator and skid steer – equipment vital to many of our client's projects.
Beginning with manufacturer-provided materials, the team's altered protocols to fit Davey's standards, modeling them after Davey's official training for similar pieces of equipment. "We've been renting these pieces of equipment, so there was no official company training available for it. We want to stay one step ahead and get this prepared in advance (of purchasing them), and to make sure our safety standards are upheld in the meantime," says Swanger.
Building Stronger Connections
Another important achievement was to start an archive center on Google Drive. Now, all participating teams have easy access to all training documentation. The new archive will also help Davey teams more efficiently keep their documentation up to date. Having standardized and readily accessible safety and procedure protocols not only helps keep accidents to a minimum, but it also ensures that Davey teams are well prepared to scale when needed with no drop in quality.
By the end of the three days, everyone agreed that the event had jumpstarted tighter communication between the whole regional team. Swanger and his colleagues plan to make it an annual event so that Davey teams in the region can continue to share knowledge and experience to benefit all our customers without sacrificing quality