Posted: June 25, 2019
Kent, Ohio – The Davey Tree Expert Company has announced the retirement of John E. Warfel from the board of directors. Warfel retired in May following 11 years of service on the board.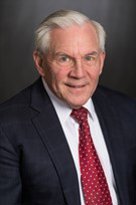 Warfel served on the board's audit, compensation and governance committees during his tenure. For the last nine years, he served as chairman of the governance committee. He is owner of Warfel Group, Inc., a business coaching franchise, and president of Warfel Enterprises, LLC, a consulting company. Prior to joining Westfield Financial Corporation Warfel was vice chairman and president of Oswald Companies from 1975 to 2002.
Davey Chairman Karl Warnke thanked Warfel for his service and added that he has been a champion for the preservation of Davey's employee-ownership culture. "John's personality and many contributions will be fondly remembered," Warnke said. "He has been truly engaged with the company and the board. His perspective has set well with the employee-owners."
With nearly 10,000 employees throughout North America, The Davey Tree Expert Company provides solutions for residential, utility, commercial and government clients. Rooted in research, the company's vision is to achieve balance among people, progress and the environment. Tree experts since 1880, Davey provides diversified tree services, grounds maintenance and environmental services. Celebrating 40 years of employee ownership, Davey is one of the largest employee-owned companies in the U.S. and is headquartered in Kent, Ohio. Want to join us? Discover your Davey career, and apply today.