Western Reserve Land Conservancy continues Earth Day tradition by planting a dozen trees in Woodhill 
Posted: April 25, 2023
(CLEVELAND) April 22, 2023 – This morning, about 40 staff and volunteers arrived at the Calvary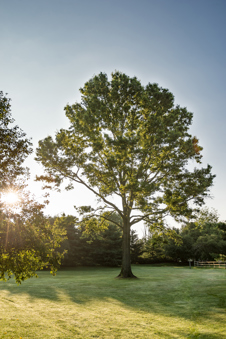 Hill Church of God in Christ to plant a dozen trees in celebration of Earth Day and the ongoing effort to Reforest Our City and rebuild Cleveland's dwindling tree canopy. 
Western Reserve Land Conservancy joined Cleveland City Councilwomen Deborah Gray (Ward 4) and Jenny Spencer (Ward 15) and volunteers from the Davey Tree Expert Company, Calvary Hill Church of God in Christ, and the Scott & Julie Mawaka Foundation at the tree planting at the church on the corner of Shaker Blvd. and Woodhill Rd. Volunteers planted five redbuds and five dogwoods on the church's property. 
The City of Cleveland, once nicknamed the Forest City, has lost more than half of its tree canopy cover over the last 75 years. This decline has reduced the environmental, economic, and social benefits trees provide, impacting Cleveland's residents' quality of life and health. In 2015, the Cleveland Tree Plan (CTP) was released, recognizing this loss and the vital role trees play in the city's health. The plan serves as a roadmap to rebuild Cleveland's urban forest from 18% to 30% by 2040 through partnership and establishes a unified vision, goals, and actions to achieve a healthy canopy. 
The location is one of many sites in Cleveland that has experienced significant tree loss and decline. But in partnership with the Church and the nearby East End Neighborhood House, Western Reserve Land Conservancy has worked to transform vacant and abandoned properties into healthy urban greenspaces that benefit the entire community.  
In May, Calvary Hill Church of God in Christ will open the Woodhill Community Garden, an urban agriculture site next to the church that will produce fresh fruits and vegetables for the community. In June, East End Neighborhood House will open the Ubuntu Gathering Place, a community park and learning center that was once an abandoned car dealership at the corner of Shaker Blvd. and E. 103rd St.  
Quotes 
"Cleveland's urban tree canopy has been in decline for years," said Matt Zone, senior vice president at Western Reserve Land Conservancy. "Every tree planted brings us closer to a vibrant and healthy urban forest. These trees will sequester air and water pollution, provide shade in the summer, and improve the health of the entire community. It's a great way to Celebrate Earth Day." 
"I'm thankful that the WRLC has chosen our community to do this tree planting," said Councilwoman Deborah Gray. "All our neighborhoods need more trees which not only beautify but create oases in the neighborhoods. It's great that it's happening on Earth Day."  
"As a member of the city of Cleveland's Urban Forestry Commission, which was revived by Council, I understand the importance of increasing our city's tree canopy," said Councilmember Jenny Spencer. "Trees are essential infrastructure and partners like WRLC will ensure our tree canopy goals are met." 
"Healthy trees generate so many benefits for both homeowners and the communities they live in," said Joe Gregory, Regional Operations Manager for Davey Resource Group, a subsidiary of The Davey Tree Expert Company. "That's why so many Davey employees around North America participate in Earth Day and Arbor Day plantings each year like this one, where the right trees are planted in the right places and in the right way.  We do it because we want trees and natural landscapes to reach their maximum potential so we can all feel the impacts of those benefits."   
"We are seeing a revitalized neighborhood," said Pastor Ernest Fields, pastor at Calvary Hill Church of God in Christ. "Neighbors are connecting with each other, forming groups to care for their streets. Local business are returning. Vacant and abandoned properties are being turned into side yards, gardens, and community spaces. By working together, we're rebuilding a safer, healthier and better Cleveland."