Posted: November 03, 2023
CLEVELAND – The Cleveland Cavaliers and The Davey Tree Expert Company today held their 8thannual Trees for Threes event at Garfield Park Reservation in Garfield, OH. The Trees for Threes project began in 2015 when the two Northeast Ohio-based organizations mutually pledged to plant one tree in their home region for every three-pointer made at Rocket Mortgage FieldHouse. To date, the partnership has resulted in more than 3,000 trees planted across the region.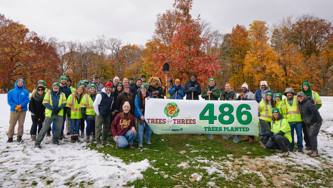 "Today's Trees for Threes event demonstrates our organization's long-term commitment to improving our local community for generations to come," said Nic Barlage, CEO of Cleveland Cavaliers, Rocket Mortgage FieldHouse and Rock Entertainment Group. "We are proud to continue our partnership with Davey Tree and the Cleveland Metroparks to make Northeast Ohio a greener and more environmentally friendly region for all."
During the 2022-23 season, the Cavs made 486 threes at Rocket Mortgage FieldHouse, which will result in 486 trees being planted by the end of November. This morning, the Cleveland Metroparks, Girl Scouts of Northeast Ohio and eight other nonprofits, municipalities and cemeteries received 200 of these trees to be planted today through this partnership.
"Projects at Garfield Park have historically been a community effort and we are grateful for the partnership with Davey Tree and the Cleveland Cavaliers," said Cleveland Metroparks CEO Brian M. Zimmerman. "Trees for Threes has a tangible improvement on the ecological health of Cleveland Metroparks and our neighbors, helping conserve forest and greenspace for future generations to enjoy."
The program began with opening remarks from the Cavs, Davey Tree, the City of Cleveland and Cleveland Metroparks executives. Following the remarks, dignitaries planted a symbolic tree to represent all the trees being planted around Northeast Ohio. The event concluded with Cavs in-arena host Ahmaad Crump and 50 volunteers from each organization planting trees at Garfield Park Reservation.
"Davey recognizes the many benefits that trees bring to our communities, and planting events such as this one at Garfield Park are something we always look forward to," said Pat Covey, Chairman, President and CEO of The Davey Tree Expert Company. "Reestablishing Cleveland's tree canopy helps improve the overall health of its neighborhoods and citizens, so the trees we've planted today – as well as future trees -- will play an important role in Cleveland."