Posted: November 11, 2020
We are at a time of great change, where we have been forced to reevaluate our priorities, and where the need for rejuvenation and health takes new importance. Many of us have sought refuge in nature, instinctively finding our way outside as a respite to our isolation. Our benefit is more than subjective; as illustrated in the past articles in this series, mental health, cardiovascular health, and the broader category of health equity are all impacted by an individual's access to green space. Cognition in the elderly is improved, as is learning in children and college students. Medical costs across a population decline, and mental health improves in communities with better green space. Physical activity increases, air quality improves, immune systems are boosted, and obesity rates decline. Emerald Ash Borer deforested areas see increases in crime. Areas with more green space see social connections improve, and a sense of stewardship for the natural world expands.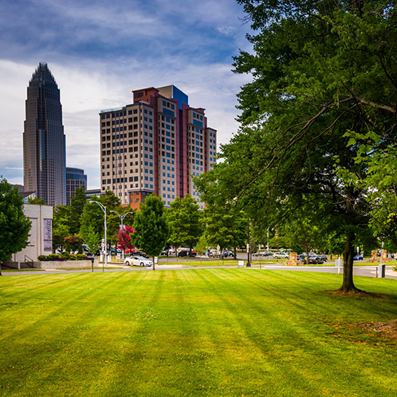 We are at the precipice of a new understanding of the public health benefits time in nature can provide. At the forefront of this understanding are those individuals who have made it their life's work to protect, manage, and increase green space, especially in urban environments. Urban foresters, city managers, parks directors, and other tree care and management professionals have a unique perspective and position to enhance their communities' health. Healthcare is just beginning to catch up to this idea—more hospital campuses are greening, and some doctors are using ParkRx America to prescribe park time for children—but more could be done to also extend their reach for nature-based community support.
Consideration of green spaces as public health intervention requires uniting community advocates, tree and environmental professionals, city representatives, and local healthcare systems. It also must integrate physical access—how far to travel to access greenspace—and social concerns like mobility, safety, and inclusion. Nature-based, mission-driven organizations could work with the community and medical systems to increase access through plantings, design, and park cleanups, and organizations could educate clinicians on the importance of nature prescribing and utilize partnerships with community health workers who are already working on various other social determinants of health such as housing and food access.
Large scale projects like major renovations or new park installations would benefit from private/public partnerships with municipalities and health systems, but must also include input from the community and local leadership. Clinicians can screen for nature exposure as a social determinant of health, and prescribe park time where appropriate. Nature contact counselors could work in health centers or with recreation departments to increase engagement. Community planning should address access for high-risk groups first—those with poor health metrics, those with low socioeconomic indicators, places where the elderly reside and children learn, as we know the greatest benefit is seen in those most vulnerable.
Those of us attuned to the benefits of green space and trees are called to respond with action. Escalating rates of chronic disease, rising burden of mental health and trauma, and exponential increases in healthcare costs all portend an unsustainable system. Medicine has been challenged to address the moral determinants of health, and medicine and arboriculture can rise to this moment together by bringing into the fold those already doing the work of caring for our environment, and our communities' green spaces. This moment could be the herald of a new intertwining of human healthcare and environmental healthcare with community-level models created with both in mind. There is great potential for creative transdisciplinary partnerships, for new designs, for management plans to include layers of green space recommendations with an eye toward enhancing human health. We are all already doing the work; from now on, let's do it together.
---



Dr. Jennifer Wisdom-Behounek, M.D., is board certified in Family Medicine, with 10 years' clinical experience. She has a particular interest in how lifestyle and nature affect health.