Posted: May 27, 2021
Davey Resource Group, Inc. (DRG) recognizes that community forest management can prove challenging. Living things, like trees, are constantly changing and those responsible for public works are often pulled in several directions simultaneously -- fixing roads, managing wastewater, and maintaining trees to name a few.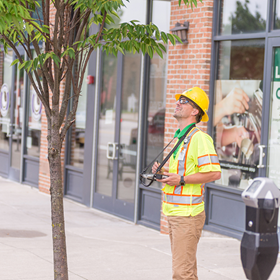 Some communities have turned to DRG's experienced urban foresters to ensure community trees receive direct attention. "Having access to forestry experts has been a huge help for us," says Erin Quetell, the Environmental Sustainability Planner for the city of Ferndale, Michigan. "Since working with Davey, we have definitely improved our tree maintenance through staff training and we have access to a second, professional opinion prior to performing any major tree work," adds Quetell.
In East Grand Rapids, Michigan, Doug La Fave, Deputy City Manager, appreciates how DRG's experts helped move the city from a mostly reactive to a proactive maintenance program. "What we've developed [with Davey] is to look at our urban forest the same way we look at other infrastructure," says La Fave. "We have an inventory of our trees and now we have Davey setup, manage, and administer a cyclical pruning program with our contractors."
Quetell believes DRG's foresters have helped emphasize to residents that the city takes tree maintenance and urban forestry seriously. La Fave agrees, "We get very positive feedback from residents. When we send out notices and newsletters communicating our pruning program, our neighbors see we're in a targeted area and appreciate the attention our trees receive." "People are even more interested and engaged now that they see a lot more maintenance and tree planting in the city," adds Quetell.
Ultimately, Quetell believes that "if we weren't using Davey's resources, we wouldn't have the robust maintenance schedule, pruning techniques, or the tree planting program that we do." La Fave says, "I'm not sure we'd be able to retain a full-time staff member given our size. Yet, we still have a need that needs to be met. So, how do we do that?" For both Quetell and La Fave, DRG's contract foresters are the best bet to provide forestry expertise to their communities.