In this Palo Alto Online article, George Reno from Davey's Menlo Park office shares how to prepare your trees for cold winter rains.
Posted: November 16, 2023
November typically signals the beginning of the rainy season in the San Francisco Bay Area, and with El Niño in the forecast, this winter and spring could be wetter than normal. Without proper preparation, high winds and heavy rains that often occur during the stormy season could wreak havoc on your trees.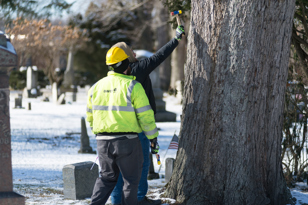 Trees thrive when they are properly supplied with water, especially when the soil is dry and they need a boost. What they're not so crazy about are stints of relentless rain showers that saturate the soil and leave them struggling for oxygen.
To read George's advice, click here.
For more information, contact the Menlo Park Davey office.