In this Family Handyman article, Lou Meyer, business developer for Davey's mid-Atlantic region, shares how to properly handle problematic tree roots that are clogging your drains.
Posted: September 14, 2023
When tree roots find their way into your sewer or water lines and cause issues with your drain, here's how to fix the problem.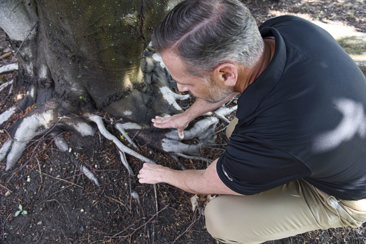 It's true: Tree roots can find their way into buried water lines and plumbing pipes, interrupting the flow into and out of your home.
"Tree roots respond to the sound waves of water and will seek it out," says Lou Meyer of Davey Tree Company, which offers tree services throughout the nation. "If there's the tiniest crack in a pipe, they will capitalize on that to get to the water. I've seen sewer lines completely clogged."
The sound of gurgling from your household drains is one sign tree roots may be clogging your pipes. When foul odors or squishy areas in your yard near the septic lines accompany the gurgling, there's a good chance tree roots are the problem.
While it's not always an easy fix, there are several measures available to kill these tree roots, along with ways to prevent future problems.
To read how you can solve this issue, click here.