In this Dallas Morning News opinion article, Brian Cox from Davey's Dallas office shares the impact drought has on tree and how to properly water and mulch during extreme heat. 
Posted: August 15, 2023
According to the U.S. Drought Monitor, Dallas is in moderate to severe drought, and the forecast is showing no sign of relief anytime soon. With high temperatures in the triple digits and no rain, drought conditions are sure to worsen.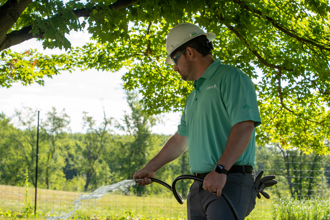 Unlike humans, trees don't show the effects of heat right away. It can take years for drought to take its toll. Because of extended drought conditions last summer, trees may be more susceptible to breaking, toppling, or even death this year. The tree's crown will often continue to flourish, but the root system may lack the nutrients it needs to keep trees stable and ward off diseases and pests. It can take up to five years for a tree to recover from a drought, if it recovers at all.
To read the rest of Brian's opinion article, click here.
For more information, contact the Dallas Davey Office.