Posted: April 25, 2023
The Pittsburgh Penguins have announced the creation of the 'Penguins Pledge' in partnership with PPG, U.S. Steel and Evoqua Water Technologies. The Penguins Pledge is a sustainability initiative which serves as the organization's commitment to improve all efforts of social, economic and environmental sustainability.
The Penguins Pledge is a collaborative effort with key partners with the goal of reducing negative impact on the environment and promoting sustainable practices to help preserve natural resources, while also supporting economic and social development.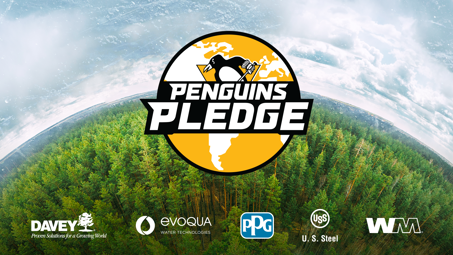 "Pittsburgh's legacy of steel and leadership on environmental sustainability has forged us to become one of the 25 greenest cities in America, with the City striving to be carbon neutral by 2030," said Penguins President of Business Operations, Kevin Acklin. "We are encouraged by our partners PPG, U. S. Steel and Evoqua joining our Penguins Pledge, and hope that even more of our partners join us in on the growing movement to create a more green and sustainable community."
"Sustainability is a key part of how PPG does business - and delivers on our purpose to protect and beautify the world," said Diane Kappas, PPG vice president of global sustainability. "Being part of the Penguins Pledge allows us to further our mission and continue to reach fans, customers and community members to educate and engage them on the importance of sustainability."
PPG Paints Arena opened in 2010 as the first NHL venue to be LEED Gold Certified, which is a globally recognized green building certification system developed by the U.S. Green Building Council (USGBC). LEED certification is awarded to buildings that meet a set of rigorous standards for sustainability and environmental performance.
In an effort to build off of the arena's sustainable efforts, the Penguins and their food service provider, Aramark, have collaborated to reduce food waste. In 2019, Aramark partnered with 412 Food Rescue to donate and redistribute all unused food from the arena to organizations around the Pittsburgh community, contributing to over 120,000 meals to local shelters annually since the partnership launched. Since 2021, Aramark and PPG Paints Arena have donated over 3,650 pounds of food.
In partnership with WM in 2021, the Penguins and PPG Paints Arena developed a comprehensive sustainability communication plan built around conservation and recycling. As a result, the arena has recycled 32.2 tons of paper, 3.2 tons of plastic and aluminum each, 11.3 tons of glass and 96.7 tons of cardboard. The effort has also conserved 233,869 cubic yards of landfill space, 1,935 mature trees, 233,869 kilowatt-hours of electricity, 902,832 gallons of water and 523 metric tons of CO2 equivalent emissions.
"The Penguins and U. S. Steel share the same belief that you can do well by doing good," said Rich Fruehauf, senior vice president and chief strategy and sustainability officer at U. S. Steel. "We look forward to building on our partnership with the Penguins to create a more sustainable world."
This past season, the Penguins and Evoqua Water Technologies partnered up to create the 'Score For Our Future' program, a competition for four local schools to propose new ideas to make PPG Paints Arena and the Penguins more sustainable organizations. The winner of the inaugural competition was Riverview High School. For their efforts, they were awarded a $5,000 grant toward a sustainability project at their school.
The Davey Tree Expert Company and the Penguins partnered up for the 2022-23 season to create the 'Score for the Trees' program, where one tree is planted in the Pittsburgh region for every goal scored at home. Thanks to the team's efforts, there will be 142 new trees planted, helping to restore and protect the urban forest.
The Penguins Pledge will also raise funds and call attention to the National Aviary in Pittsburgh and their conservation leadership with African Penguins. As part of the partnership, Aviary experts and some of their live penguin ambassadors will visit PPG Paints Arena for a minimum of 10 games during the 2023-24 season. A permanent display on the FedEx Level of PPG Paints Arena will be home to the visiting penguins and also feature footage of the National Aviary's Penguin Point habitat for the games when the birds aren't at the arena.
For more information about the Penguins Pledge, please visit https://www.nhl.com/penguins/community/penguins-pledge.