Posted: March 29, 2019
Kent, Ohio – ABS Tree Care of Omaha, Nebraska's business operations has joined with The Davey Tree Expert Co. to offer leading residential and commercial tree care services in Council Bluffs, Iowa, and in Omaha. The company has been accredited with the Tree Care Industry Association for six years. Approximately 10 employees work for ABS, and substantially all will be remaining with the business.
ABS owners Cody Forristall and Josh Kallsen have handed over leadership of the company to focus on another business, but are consulting for the next six months to help with the transition. Forristall said they chose Davey because of its reputation within the industry and its industry associations.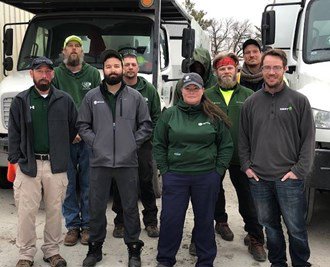 "Davey Tree has an excellent reputation in the tree and landscape industry," explained Forristall. "With this change, ABS clients will benefit from more comprehensive service offerings, including access to the Davey Institute, an industry-leading diagnostic and research facility."
Additionally, Forristall said he was impressed with the company's employee-ownership status, and Davey's growth opportunities for his employees. "Davey's strong culture in employee-ownership appealed to me," he explained. "With this change, ABS employees will have greater training and education opportunities, as well as the opportunity to become employee-owners and grow with the company."
The new Davey office is led by Joshua Rongish, who is the district manager of the operation. Rongish is an International Society of Arboriculture Certified Arborist® and a graduate of the Davey Institute of Tree Sciences, (D.I.T.S.), which is Davey's flagship training program in biological sciences, safety, tree and plant care and management techniques. He most recently was a sales representative at Davey's office in Dallas. 
"This is a special opportunity to meet a new team and be involved in their transition into the Davey family," said Rongish. "I look forward to developing strong relationships with both my new team at ABS Tree Care and my new community."
Jim Stief, executive vice president of U.S. residential operations for Davey Tree, said that Rongish will bring his own brand of client-focused service to our newest locale, and will fit in well with the ABS team. "Both companies have a passion for excellent tree care while concentrating on the client experience," said Stief. "This change will allow us to introduce additional Davey services within the greater Omaha area."
With nearly 9,500 employees throughout North America, The Davey Tree Expert Company provides solutions for residential, utility, commercial and government clients. Rooted in research, the company's vision is to achieve balance among people, progress and the environment. Tree experts since 1880, Davey provides diversified tree services, grounds maintenance and environmental services. Celebrating 40 years of employee ownership, Davey is one of the largest employee-owned companies in the U.S. and is headquartered in Kent, Ohio. Want to join us? Discover your Davey career, and apply today.