Posted: September 08, 2020
Kent, Ohio – The Davey Tree Expert Company is taking its Talking Trees YouTube video series to Facebook for Talking Trees Live!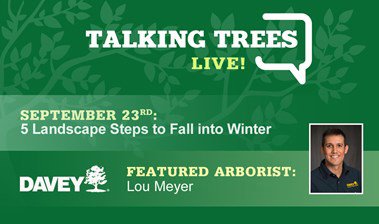 Davey arborists from across the U.S. will discuss topics of seasonal importance with viewers during bi-monthly, live events hosted on Davey's Facebook page. Tree care topics will range from damaging insects and diseases, professional tree care advice to prepare for autumn, and commonly asked fall-related questions.
Each session will be held on a Wednesday at 3 p.m. EST and will be hosted on the Davey Facebook page.
"Talking Trees Live gives Davey clients and other homeowners the opportunity to learn about important tree care topics directly from some of Davey's expert arborists," said Sandra Reid, vice president of communications and strategic planning. "During this unprecedented time, these virtual experiences provide an innovative solution to client experience, allowing Davey's arborists to give relevant and timely insights ahead of another beautiful fall season."
Session dates and topics will include:
September 9: Arborist Josh Fritz from the Boston area will discuss why leaves change colors and what to do if your trees change early.
September 23: Arborist Lou Meyer from the Chesapeake Bay area will talk landscaping advice for preparing to fall into winter, from dormant pruning and mulching to fertilization tips.
October 7: Chicago-area arborist Shawn Kingzette will discuss "OAKtober," touching on common oak diseases and insects that homeowners can watch for this fall.
October 21: Matt Petty from Davey's Houston area offices will talk "zombie trees," how to spot them and what you can do to protect your property.
This series is held in partnership with Garden Media Group (GMG) and each event will be hosted by Katie Dubow, GMG president. Additional Facebook Live events are being considered on future, seasonal tree care topics.
The Davey Tree Expert Company provides research-driven tree services, grounds maintenance and environmental solutions for residential, utility, commercial and environmental partners across North America. As one of the largest employee-owned companies in the U.S., Davey has been dedicated to creating and delivering sustainable solutions for 140 years. Become part of the Davey legacy and apply today.