Posted: August 04, 2019
In this GardenSmart article, Jason Muchmore of Davey's Cincinnati office tells readers how to spot signs of anthracnose in their trees and which trees it usually impacts.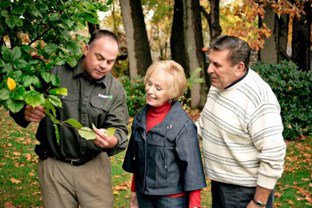 If the bright and shiny leaves on your shade tree look dull, have brown spots or appear dead, the culprit could be a destructive leaf disease known as anthracnose. The disease can affect ash, maple, oak, sycamore and dogwood trees.
"We're seeing quite a bit more anthracnose disease in both sycamore and ash trees," says Cincinnati Davey Tree arborist Jason Muchmore.
To read the rest of the article, click here.