In this Palo Alto Online column, Jeff Newborn, from Davey's Menlo Park office, shares how to keep your trees hydrated and safe from pests this summer. 
Posted: June 19, 2023
Welcome to our new tree column, "Ask your local arborist." Each month, arborists from the Davey Tree Expert Company in Menlo Park will discuss a tree-related topic from general care to planting tips and tricks to how trees can impact your property and community, as well as answer your questions. If you have a tree-related question or an idea for a topic to discuss, email them here. Arborists may make house calls, when needed, to assess tree questions on your property.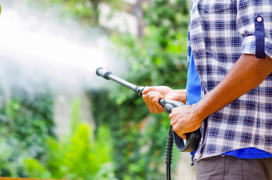 As summer nears and people head outdoors – and often under the cool shade of a tree – it's not unusual to get inquiries from local residents wondering how to keep their trees healthy during the area's hot and dry months. Common questions include: Why are my tree's leaves turning yellow and falling? How much water do trees need each week during summer's dry spell? Is it OK to prune my tree during the summer? How do I know if my shrubs have bugs?
To read Jeff's summer tree care suggestions, click here.