In this Baltimore Sun article, Aaron Garver from Davey's South Baltimore office shares how the invasive spotted lanternfly could impact Maryland this summer.
Posted: July 05, 2023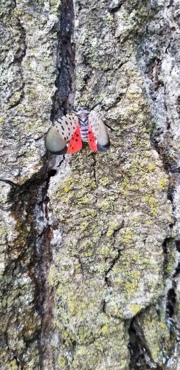 It Harford County's Fiore Winery, a plush toy version of the spotted lanternfly greets patrons entering the tasting room.
Its bright red, polka-dot wings are a beautiful display. But a flyer beneath it warns of the sinister truth bout the invasive bug, which feeds on grapevines and other crops voraciously.
Located close to Pennsylvania, where the lanternfly began its U.S. invasion in 2014, Fiore has contended with them for a few years. And their incursion has taken a toll, said Tony Fiore, the vineyard's operations manager.
To read about Aaron's insights on the spotted lantern fly, click here.