Posted: March 24, 2020
In this Click2 Houston article, Ted Sonnier of Davey's South Houston office, talks about this year's early spring tree pollination season.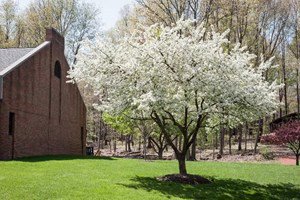 Spring has officially sprung, but if it went by pollen counts then we started our spring six weeks ago! Understanding just what is going on is important and pretty simple: for most trees, the male trees pollinate and female trees produce fruit, the pollen being transported from plant to plant by wind or bees or butterflies or the lawn guy's leaf blower!
Apparently, we like to plant a lot of male trees (less clean up) and so we have a lot of pollen, especially from all of our oaks and pines. One solution in the fight against pollen is to plant trees that don't produce pollen in the first place: female trees! Like a nice peach tree:
To read more, click here.