Posted: November 03, 2020
In this Houston Chronicle article, Matt Petty of Davey Tree's South Houston office discusses how trees can become "zombie trees" from fungus and what homeowners should do about them.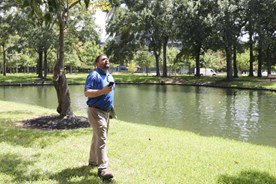 They stand among us — trees that look alive but are actually undead. "Zombie trees" is the name given to trees that appear healthy, and may even have flowers and green canopies, but are actually weakened and dying.
"They are trees that are dead and do not know it yet," said arborist Matt Petty from Davey Tree. "They are in decline and have crippling health or safety issues. An arborist would be able to do a detailed evaluation and notice areas of concern."
Rendered hollow by internal decay, these trees may come crashing down at any moment. They pose an especially great danger during hurricane season.
"An arborist would be able to determine if a tree can be preserved and strengthened or needed to be removed," Petty said.
To read the full article, click here.