In this DelewareToday article, Jason Gaskill from Davey's Wilmington office shares advice on how to keep trees hydrated and healthy during the summer.
Posted: May 23, 2023
Did you know trees need protection from the sun, just like us? Here are foolproof tree care tips for this summer in Delaware.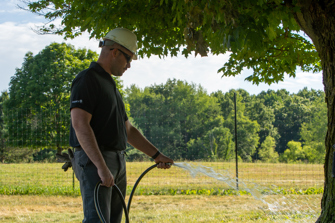 In summer, we seek shade, and there's no better place to find it than under a tree's cool canopy. While trees work hard to keep us cool, they need protection from the sun, too.
Dry conditions and abnormally high temperatures leave trees parched. Drought weakens trees and can eventually kill them. To survive, trees need attention during, as well as after, periods of drought.
Make sure mature trees have enough water to make it through the dry summer months. Davey Tree arborist Jason Gaskill says trees generally have enough water if the upper 12 inches of soil is moist.
To read more of Gaskill's advice click here.