Through the Score for the Trees partnership Davey Tree and the Pittsburgh Penguins plant 142 trees in in Allegheny County.
Posted: November 16, 2023
Fourth-grader K.K. Cunningham had never planted a tree before Thursday.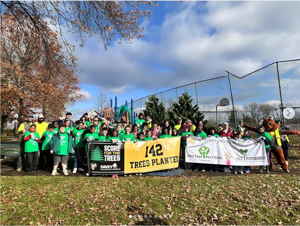 But the 9-year-old Hazelwood boy was a natural, grabbing a shovel, pivoting and plunging it into soil outside Pittsburgh Mifflin Elementary on what was a gray November morning in the city's Lincoln Place neighborhood.
By the time K.K.'s in eighth grade, he said the tree would tower over a nearby fence.
"It's going to grow with me," he said.
A total of 53 fourth- and eighth-graders gathered Thursday morning to plant seven, new Eastern red cedar trees as part of a program involving a national tree-care company, the local nonprofit Tree Pittsburgh and the Pittsburgh Penguins.
To read more about the event, click here.