Posted: June 27, 2019
In this Everybody Gardens article, Todd Sherbondy of Davey's Pittsburgh office explains why people shouldn't be concerned about their trees and the 17-year cicadas.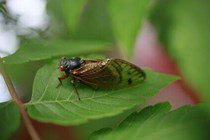 If you happen to be one of the people inundated with cicadas, you might be concerned about your trees. Todd Sherbondy, a sales arborist for The Davey Tree Expert Company, says you shouldn't worry. 
The 17-year cicadas known as Brood VIII emerged in late spring and are still filling the air with their loud songs.
To read more, click here.