Posted: December 01, 2020
Kent, Ohio – Davey Resource Group, Inc. (DRG), a subsidiary of The Davey Tree Expert Company, has announced the acquisition of the assets of EEE Consulting, Inc. (3e) of Virginia.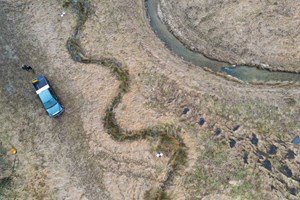 Founded in 1998, 3e operates in the Richmond and Blacksburg areas and provides environmental and engineering services to the public and private sectors. Those services include: site assessment and remediation; water resource and stormwater management; landscape architecture; Geographic Information System (GIS) services; wetland delineation; mitigation design; stream restoration; threatened and endangered species consultation; brownfield redevelopment; certified drone surface modeling; National Environmental Policy Act document preparation, and a variety of other services.
The acquisition was made by Wetland Studies and Solutions Inc., a Davey company (WSSI), which is a subsidiary of DRG. The 3e offices in Mechanicsville and Blacksburg, Virginia, will become new offices for WSSI, also based in Virginia.
"Davey Resource Group and WSSI are excited to welcome the employees of 3e into the Davey family," said Ken Joehlin, vice president and general manager, DRG Environmental Consulting. "3e brings a broad range of expertise and experience partnering with municipal and government clients that will enhance the environmental consulting services WSSI offers to clients in Virginia. This acquisition also strengthens Davey's commitment to providing diverse consulting solutions to our clients."
Like Davey, 3e has been employee owned. Under employee ownership, staff members are given the opportunity to become owners through an Employee Stock Ownership Plan (ESOP), an employee benefit plan that gives workers ownership interest in the company through stocks. Davey has been employee-owned since 1979 and is the ninth largest employee-owned firm in the U.S.
3e has 36 employees working out of offices in Richmond, Blacksburg and Newport News. All employees will continue employment under the WSSI brand. Andrew Kassoff, president of 3e, will continue as director, WSSI.
"Davey Tree is a leader in the tree care and environmental consulting industry, and we are thrilled to join the Davey family," Kassoff said. "This is a great opportunity for our clients as well. The only major changes they will notice will be an expansion of our talent, expertise, and an increased diversity in the services we can offer. Also, 3e employees will benefit from Davey's legacy and culture of employee ownership. We are truly excited for what the future holds."
Davey Resource Group is a subsidiary of The Davey Tree Expert Company. The Davey Tree Expert Company provides research-driven tree services, grounds maintenance and environmental solutions for residential, utility, commercial and environmental partners across North America. As one of the largest employee-owned companies in the U.S., Davey has been dedicated to creating and delivering sustainable solutions for 140 years. Become part of the Davey legacy and apply today.