Posted: August 13, 2019
Kent, Ohio – The Davey Tree Expert Company is proud to have sponsored the 2019 International Tree Climbing Championship (ITCC) final round, the Masters' Challenge.
The best male and female professional tree climbing arborists from around the world competed in Knoxville, Tennessee, at Lakeshore Park from Aug. 9-11 for the title of ITCC world champion. This year's Masters' Challenge winners were Scott Forrest, of New Zealand, and Josephine Hedger, of Ireland.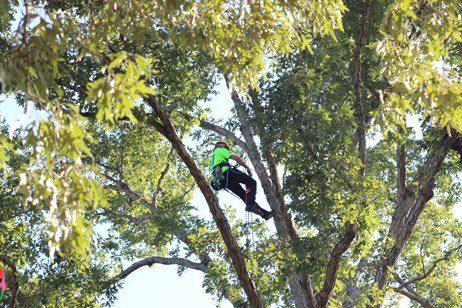 The 43rd Annual ITCC is organized by the International Society of Arboriculture (ISA). The event showcases these industrial athletes to educate the public about professional tree work and the training and expertise it requires to be done safely.
In 2018 there were 75 competitors from 21 countries, setting a record for the competition. This year's Masters' Challenge was sponsored by The Davey Tree Expert Company.
"Climbers at ITCC's Masters' Challenge represent the culmination of technique, safety and passion for tree care," said Sandra Reid, vice president of corporate communication and strategic planning administration for Davey Tree. "Davey is proud to support an event that showcases the pinnacle achievements of this industry's finest climbing arborists and their love for trees."
ITCC competitors are some of the best in the industry. Climbers earn the opportunity to compete by winning their respective local and regional climbing competitions, which are held by ISA chapters and associate organizations around the world.
The competition features five preliminary events which began on Friday afternoon, Aug. 9, and continued through Saturday, Aug. 10. The competitors who scored the highest in the preliminary events competed in the Masters' Challenge championship round, sponsored by Davey Tree, on Sunday, Aug. 11, for the title of World Champion. Each of the preliminary events simulate work-related tasks when pruning and caring for trees.
ITCC was hosted by and in partnership with the ISA Southern Chapter. The event occurred in conjunction with the ISA Annual International Conference and Trade Show, which runs August 11-14 at the Knoxville Convention Center.
With more than 10,500 employees throughout North America, The Davey Tree Expert Company provides solutions for residential, utility, commercial and government clients. Rooted in research, the company's vision is to achieve balance among people, progress and the environment. Tree experts since 1880, Davey provides diversified tree services, grounds maintenance and environmental services. Celebrating 40 years of employee ownership, Davey is one of the largest employee-owned companies in the U.S. and is headquartered in Kent, Ohio. Want to join us? Discover your Davey career, and apply today.