Posted: March 06, 2019
Kent, Ohio – The Davey Tree Expert Co. of Canada, Limited, is proud to announce the promotion of Darran Malcolm to operations vice president.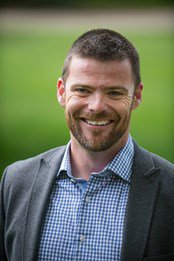 "Darran's experience in both residential and utility services gives him a unique perspective on how to provide excellent client experiences," said Blair Veitch, vice president and general manager, Canadian Utility. "We're confident he will excel as he continues to work to grow our operations."
Malcolm joined Canadian operations in 2001 as a spray technician in the Mississauga R/C office. He joined a tree care crew in 2002 and worked his way up to foreman. In 2011 he was promoted to the role of technical skills trainer. In 2014 he transitioned from Residential/Commercial services and was promoted to area manager, Ontario Utility west. In 2017 Malcolm was promoted to regional vice president, Ontario Utility services.
Malcolm is a current member of the Davey President's Council, which brainstorms and researches new ideas related to the company's operations and presents them to management for review and consideration for implementation. 
Malcolm is a graduate of the Davey Institute of Tree Sciences (D.I.T.S.), which is Davey's flagship training program in biological sciences, safety, tree and plant care and management techniques. He is an International Society of Arboriculture Certified Arborist® and ISA Certified Utility Arborist®. Malcolm is a 2002 graduate of the urban arboriculture program at Humber College, where he also served as an instructor and faculty member until 2015.
With nearly 9,500 employees throughout North America, The Davey Tree Expert Company provides solutions for residential, utility, commercial and government clients. Rooted in research, the company's vision is to achieve balance among people, progress and the environment. Tree experts since 1880, Davey provides diversified tree services, grounds maintenance and environmental services. Celebrating 40 years of employee ownership, Davey is one of the largest employee-owned companies in the U.S. and is headquartered in Kent, Ohio. Want to join us? Discover your Davey career, and apply today.