Posted: October 28, 2019
Kent, Ohio - The Davey Tree Expert Company continues the celebration of its 40th anniversary of employee ownership during October, employee-ownership month. After becoming employee-owned in 1979, the company made employee-ownership a core value and driver of growth. Davey initially marked an annual revenue in 1978 of $52 million with approximately 2,800 employees.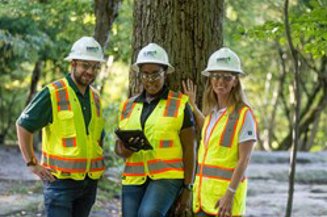 Forty years later, President and CEO Pat Covey said the company's achievement of over $1 billion in revenue with more than 10,500 employees shows a deep-seeded belief in employee ownership.
"In 2013, we set a goal of $1 billion in revenue by 2020 as part of our strategic plan," explained Covey. "We achieved that goal two years early because of our steadfast focus on continued growth, but more importantly, because of our focus on our people, clients and financial sustainability. As we look forward, we will continue to build on this solid foundation that has made us culturally unique and successful."
Sandra Reid, vice president of corporate communications and strategic planning administration, agreed and pointed out that, over the last six years, the company has implemented strategies to improve many areas, including safety, recruiting and training, client retention, community involvement and innovation.
"While we are excited about reaching $1 billion, it is our employee-ownership culture, commitment and passion that make Davey a great place to work," Reid said. "This is what will differentiate us as we continue to grow and attract people who want to be a part of something special."
Becoming Employee-Owned
The Davey company had been established, owned and managed by the Davey family almost entirely since its founding in 1880, but in the late 1970s the family decided to sell the company. Almost immediately, an employee-ownership committee was created and met with the family to explore the possibility of the employees purchasing the company.
On March 15, 1979, a financial commitment was made by 114 employees who participated in a direct purchase of stock. To make the acquisition possible, the company redeemed thousands of shares of stock but reserved some to be sold to the newly created Davey Employee Stock Ownership Plan (ESOP). More than 400 employees participated in the initial ESOP, and these combined efforts are what made the employee acquisition a reality 40 years ago. Hundreds of other employees participated in the ensuing years, and today thousands of Davey employees share ownership of the company.
Today, Davey is one of the oldest and the 9th-largest employee-owned company in the United States, according to the National Center for Employee Ownership. To note the anniversary, the company had multiple touchpoints throughout the year, culminating during employee-ownership month in October.
Since 1979, the company's revenues have grown from roughly $60 million to $1 billion, and the number of employees has gone from 2,800 to more than to 10,500. Additionally, the market value of the company's shares increased from more than $7 million to over half a billion today. Covey said much of the growth is due to Davey's employee-owners' passion for providing solutions that exceed client expectations.
"Reaching these milestones – $1 billion in revenue and our 40th anniversary of employee ownership – is a huge accomplishment for our employee-owners throughout North America," Covey said. "But it doesn't mean we're going to sit back and relax. We are going to keep our focus on what got us here and keep pushing forward to accomplish new goals and reach new heights."
With more than 10,500 employees throughout North America, The Davey Tree Expert Company provides solutions for residential, utility, commercial and government clients. Rooted in research, the company's vision is to achieve balance among people, progress and the environment. Tree experts since 1880, Davey provides diversified tree services, grounds maintenance and environmental services. Celebrating 40 years of employee ownership, Davey is one of the largest employee-owned companies in the U.S. and is headquartered in Kent, Ohio. Want to join us? Discover your Davey career, and apply today.