Posted: October 10, 2022
Kent, Ohio – The Davey Tree Expert Company is proud to announce that Davey Resource Group (DRG) has been able to secure Part 107 waivers for Beyond Visual Line of Site (BVLOS) flights by the Federal Aviation Administration (FAA).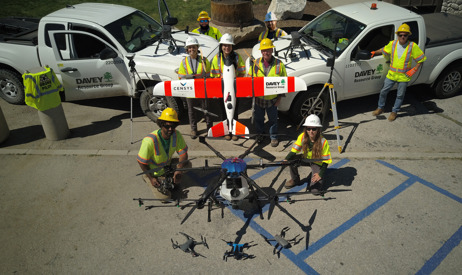 Utilizing DRG's Censys Sentaero BVLOS and the Sentourion Mobile Command Center (MCC) provides quick data turn-around time, DRG is now one of the first arboriculture companies that has been granted a FAA BVLOS waiver, and is one of less than 300 flight waivers currently approved in the U.S.   
"This waiver is important because it allows DRG to work safely and more efficiently, ultimately cutting down costs for our clients," said Rachel Miller, project manager and chief supervisor of unmanned aircraft systems (UAS) operations for DRG. 
BVLOS waivers are granted to only those who meet a criteria involving the safety standards and track record of the pilots conducting the mission.  These waivers free drone pilots from the usual FAA requirement that operators maintain visual line of sight at all times with any drone they are operating, which may be only up to a range of one mile at a time from the pilot. Additional safety precautions, such as an onboard detect and avoid (DAA) sensor to automatically avoid air traffic or large birds while in flight and setting up a mission control station on site to monitor the drone during flight allows this drone to be flown beyond the pilot's line of sight and collect data safely and much more quickly. 
DRG has been approved for two of these waivers, which will be used for different projects throughout the year. The first project utilizing this waiver will be under way this October in North Carolina for coastal mitigation mapping. Additional BVLOS approvals include locations for Erie MetroParks in Ohio and Bear Valley Electric in California. 
Davey Resource Group is a subsidiary of The Davey Tree Expert Company. The Davey Tree Expert Company provides research-driven tree services, grounds maintenance and environmental solutions for residential, utility, commercial and environmental partners across North America. As one of the largest employee-owned companies in the U.S., Davey has been dedicated to creating and delivering sustainable solutions for 140 years. Become part of the Davey legacy and apply today.