Posted: February 26, 2020
Kent, Ohio – The Davey Tree Expert Company is proud to announce the promotion of Andrew Shaffran to district manager of the North Detroit Residential/Commercial (R/C) services office.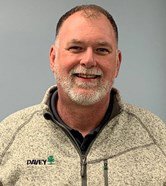 Shaffran started his career with Davey in 1993 as a plant health care technician in Davey's St. Louis R/C office. In 1995 he transferred to the South Detroit R/C office as a sales and service technician. In 2016 he was promoted to sales arborist and in 2019 was promoted to district manager of the new Davey Lawncare R/C office.
"Andrew has become a respected leader in the Detroit area. He has a deep knowledge of tree and plant health care that's combined with client experience skills and a safety-focused work ethic," said Dave Bargerstock, operations manager, Great Lakes West R/C operating group. "I look forward to seeing Andrew continue fostering a culture in Detroit that is attentive to the needs of Davey's clients and dedicated to exceptional results."
Shaffran is a graduate of the Davey Institute of Horticultural Sciences and the Davey Institute of Lawncare Services. He earned a bachelor's degree in horticulture from Michigan State University.
The Davey Tree Expert Company provides research-driven tree services, grounds maintenance and environmental solutions for residential, utility, commercial and environmental partners across North America. As one of the largest employee-owned companies in the U.S., Davey has been dedicated to creating and delivering sustainable solutions for 140 years. Become part of the Davey legacy and apply today.