Posted: April 28, 2021
Kent, Ohio – The Davey Tree Expert Company is proud to announce the promotion of Anna Davis to vice president of human resources.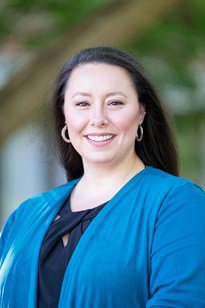 In addition to maintaining accountability for the overall administration, coordination and execution of our human resources functions, Davis will assume leadership for the corporate recruiting and employee development group. Davis is also a project sponsor on Davey's SuccessFactors Employee Central program. The program is designed to improve the 'recruiting through retirement' employee experience and empower employees through information accessibility.
"Anna lives Davey's values daily and sets a wonderful example for employees throughout the company," said Greg Ina, executive vice president of The Davey Institute and employee development. "She has transformed our human resources department in many positive ways as director, and I look forward to seeing what continued success she brings to the company for the betterment of our employees and clients."
Davis began her career at Davey in 2002 as an employee records specialist. Since then, she has worked in or led every element of Davey's Human Resources Department. In 2018, she was promoted to director of human resources administration.
Davis earned her bachelor's degree in business and organizational communications from the University of Akron, and in 2008 she earned a master's degree of business administration from Kent State University. 
Davis is a current member of Davey's President's Council, which brainstorms and researches new ideas related to the company's operations and presents them to management for review and consideration for implementation.
The Davey Tree Expert Company provides research-driven tree services, grounds maintenance and environmental consulting for residential, utility, commercial and environmental partners in the U.S. and Canada. Established in 1880 and headquartered in Kent, Ohio, Davey Tree is in the top 10 largest employee-owned companies in the U.S. and has more than 10,000 employees who are driven to create and deliver sustainable solutions. Discover your Davey career and apply today.