Posted: June 11, 2019
Kent, Ohio – The Davey Tree Expert Company is proud to announce the promotion of Denise Danois-Triche to regional recruiting manager, Midwest.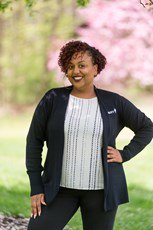 In her new role, Danois-Triche will provide recruiting leadership in the Great Lakes and Chicago regions.
"Denise's creative approach to selling Davey careers is one of her many strengths," said Brigitte Orrick, director of recruiting and employee development. "She has a proven track record of being able to relate with candidates and connecting them to our company."
Danois-Triche started with Davey in 2017 as a client experience coordinator in the West Chicago Residential/Commercial (R/C) office. She transferred to the South Chicago R/C office that same year. In 2018, she was promoted to recruiting coordinator for the Chicago area. Danois-Triche was promoted again in 2019 to supervisor of the recruiting hub in Chicago.
Danois-Triche has experience in sales, marketing and management, with an educational background in interactive/multimedia design and marketing from the School of the Art Institute of Chicago.
With 10,000 employees throughout North America, The Davey Tree Expert Company provides solutions for residential, utility, commercial and government clients. Rooted in research, the company's vision is to achieve balance among people, progress and the environment. Tree experts since 1880, Davey provides diversified tree services, grounds maintenance and environmental services. Celebrating 40 years of employee ownership, Davey is one of the largest employee-owned companies in the U.S. and is headquartered in Kent, Ohio. Want to join us? Discover your Davey career, and apply today.