Posted: March 27, 2019
Kent, Ohio – The Davey Tree Expert Company is proud to announce the promotion of Geoff Clark to district manager, Youngstown Residential/Commercial (R/C) office.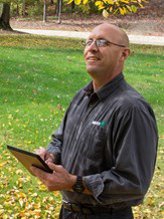 Clark started with Davey in 1999 as a surgery foreman in the Toledo R/C office. In 2004, he transferred to the Akron R/C office as a foreman. Clark was promoted to sales arborist in 2012. Four years later, he made a lateral transition to the Youngstown R/C office.
"Geoff is hardworking, knowledgeable and has the ability to communicate extremely well with clients," said Jeff Crites, operations manager, Great Lakes East R/C territory. "His experience and dedication will enhance the services the Youngstown office provides its clientele."
Clark is actively serving in the U.S. Air Force Reserves, with over 22 years of service. He holds the title of Senior Master Sargent and served three tours overseas.
Clark is a 2005 graduate of the Davey Institute of Tree Sciences (D.I.T.S), which is Davey's flagship training program in biological sciences, safety, tree and plant care and management techniques. He also graduated from the Davey Institute of Lawn Sciences (D.I.L.S.) in 2002. Clark is an International Society of Arboriculture Certified Arborist® and is a licensed pesticide applicator. Clark holds an associate's degree in forestry from Paul Smith's College in Paul Smiths, New York.
With nearly 9,500 employees throughout North America, The Davey Tree Expert Company provides solutions for residential, utility, commercial and government clients. Rooted in research, the company's vision is to achieve balance among people, progress and the environment. Tree experts since 1880, Davey provides diversified tree services, grounds maintenance and environmental services. Celebrating 40 years of employee ownership, Davey is one of the largest employee-owned companies in the U.S. and is headquartered in Kent, Ohio. Want to join us? Discover your Davey career, and apply today.