Posted: April 20, 2021
Kent, Ohio – The Davey Tree Expert Company is proud to announce the promotion of Kris Bruestle to market manager, Ohio River Valley operations, Residential/Commercial (R/C) services.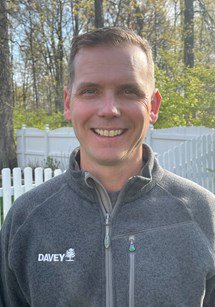 "Kris' diligent pursuit of safe work conditions, recruitment and excellent client experience has led his office to many successes during his time as district manager," said Jim Houston, vice president and general manager, Eastern operations, R/C services. "Because of his drive and passion, he will benefit all the offices in the newly formed Ohio River Valley operating group, and I look forward to the success he brings the company and clients."
Bruestle joined Davey in 2006 as a project manager for Davey Resource Group (DRG) in natural resources. In 2009, he joined R/C in the Columbus office and worked his way through a series of leadership promotions in tree care, plant health care and landscaping. In 2016, Bruestle was promoted to sales arborist, and in 2017 was promoted to district manager of Davey's West Columbus R/C office.
In 2012, Bruestle graduated from the Davey Institute of Tree Sciences (D.I.T.S.), which is Davey's flagship training program in biological sciences, safety, tree and plant care and management techniques. He is an International Society of Arboriculture (ISA) Certified Arborist® and holds a bachelor's degree in conservation biology from the University of Idaho.
The Davey Tree Expert Company provides research-driven tree services, grounds maintenance and environmental consulting for residential, utility, commercial and environmental partners in the U.S. and Canada. Established in 1880 and headquartered in Kent, Ohio, Davey Tree is in the top 10 largest employee-owned companies in the U.S. and has more than 10,000 employees who are driven to create and deliver sustainable solutions. Discover your Davey career and apply today.