Posted: December 20, 2019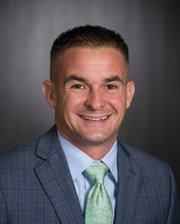 Kent, Ohio – The Davey Tree Expert Company is proud to announce the promotion of Mike Mittiga to vice president and general manager, Eastern Utility services.
Mittiga will oversee operations for all aspects of Eastern Utility. He will report to Brent Repenning, executive vice president, U.S. Utility and Davey Resource Group.
"Mike's dedication, tenacity and leadership have earned him a reputation for exceeding client expectations," Repenning said. "His commitment to diligently building safe, engaged teams is evident in his daily work ethic, and I look forward to his continued success in helping to build the future of Davey's utility services."
Mittiga started with Davey in 2006 as a management trainee and was positioned as a groundman/trimmer on the Tampa Electric account. He was quickly promoted to supervisor on the Orlando Utilities Commission account the same year. He earned several more promotions to account manager in 2008, senior account manager in 2012, area manager in 2013 and operations manager in 2015.
In 2016 he assumed the role of vice president, Upper Atlantic Region. In 2018 he was promoted to vice president of operations, Atlantic Region.
Mittiga is an International Society of Arboriculture (ISA) Certified Arborist® and an ISA Certified Arborist Utility Specialist®. He holds a bachelor's degree in business administration from Kent State University.
Mittiga is a past member of the Davey President's Council, whose members serve a three-year term on various committees to brainstorm and research new ideas related to the company's operations. He is a 2009 graduate of the Davey Institute of Tree Sciences, Davey's flagship training program in biological sciences, safety, tree and plant care and management techniques.
With more than 10,500 employees throughout North America, The Davey Tree Expert Company provides solutions for residential, utility, commercial and government clients. Rooted in research, the company's vision is to achieve balance among people, progress and the environment. Tree experts since 1880, Davey provides diversified tree services, grounds maintenance and environmental services. Celebrating 40 years of employee ownership, Davey is one of the largest employee-owned companies in the U.S. and is headquartered in Kent, Ohio. Want to join us? Discover your Davey career, and apply today.