Posted: January 13, 2020
Kent, Ohio - The Davey Tree Expert Company is proud to announce the promotion of Scott Carlin to vice president and general manager, Davey Resource Group (DRG), asset management services.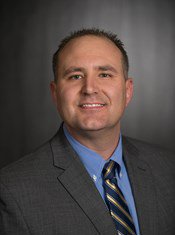 Carlin joined Davey in 2004 as project developer on the DRG geographic information systems (GIS) team. In 2006 he transitioned to sales and marketing for DRG project development and in 2009 was named market manager for the division. In 2012 Carlin was promoted to market manager of DRG project development and then division manager in 2015. In 2016 he was promoted to vice president of DRG project development before transitioning to vice president of asset management services in 2018.
"Every day Scott approaches projects with an enthusiasm that carries through to his team. As Davey's clients and projects evolve, Scott's leadership and dedication to excellence also grows," said Brent Repenning, executive vice president, U.S. Utility and DRG. "Scott will continue leading a dynamic, safety focused team on innovative solutions with a commitment to client service."
He has a bachelor's degree in finance from the University of Toledo. Carlin has served as chairman of the Heartland Joint Use Consortium, SSE Risk Management Group, and Edison Electric Institute.
Carlin is a past member of the Davey President's Council, whose members serve a three-year term on various committees to brainstorm and research new ideas related to the company's operations.
With more than 10,500 employees throughout North America, The Davey Tree Expert Company provides solutions for residential, utility, commercial and government clients. Rooted in research, the company's vision is to achieve balance among people, progress and the environment. Tree experts since 1880, Davey provides diversified tree services, grounds maintenance and environmental services. Celebrating 40 years of employee ownership, Davey is one of the largest employee-owned companies in the U.S. and is headquartered in Kent, Ohio. Want to join us? Discover your Davey career, and apply today.