Posted: July 22, 2022
In this UConn Today article, Davey intern Alyssa Cleland at the Hamden, Connecticut, office talks about what she's enjoyed about her internship at Davey.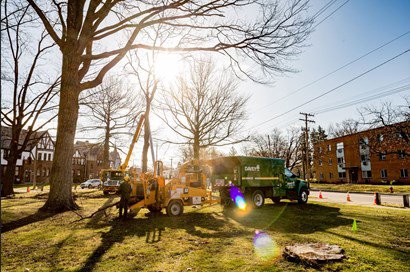 This summer Alyssa Cleland is hanging out, but it's not what you think. On any day, you might find Cleland scaling a tree, dozens of feet in the air. That's because Cleland is spending the break from her coursework at UConn getting first-hand experience as a summer arborist with The Davey Tree Expert Company's Hamden branch.
Cleland is a student in the Ratcliffe Hicks School of Agriculture (RHSA) in the Urban Forestry and Arboriculture Program. This internship is allowing her to put the knowledge she gains in the classroom into practice in a real-world setting.
So far, Cleland has helped cut down dead trees, trim branches, and even set up a mind-body garden at the Yale New Haven Hospital. She's also learned the ins and outs of climbing, cutting, planting, and trimming trees around the state.
"Alyssa has been a strategic asset in outfitting our tree crews which helps enable us to keep up with client demand," says Cameron Pierce, district manager and Cleland's supervisor.
To continue reading this article, click here.