Posted: December 12, 2019
In this Garden Smart article, Tom Beshoar, district manager of Davey's St. Louis office, offers five ideas for creating a wildlife-friendly yard this winter.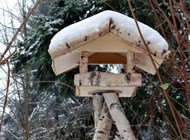 Winter is the season people spend the most time indoors. The outdoor landscape seems bare and quiet, but don't be fooled by the stillness, there's still much going on in the "off" season.
Birds and other wildlife are bracing for the elements. According to Tom Beshoar, a local, certified arborist with St. Louis' Davey Tree, you can help them thrive all season by creating a winter habitat they can enjoy.
To read more, click here.