Posted: August 16, 2021
Davey is mentioned in this Garden Smart article about why fall is one of the best times to plant a tree and tips on how to effectively plant your tree.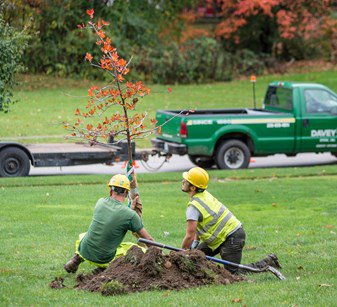 Why go to the trouble of planting a tree in autumn? The reason is that it makes for a stronger, better-established tree. The soil is warm, but the air is cooling down, so there's less stress on the tree. There's usually more rainfall, and in most places there's still months before frost. The tree is done making leaves, so it can expend its energy developing a deep root system. This makes for a resilient tree whose top growth will take off next spring.
By "fall" tree experts mean anytime from mid-August to mid-October, depending on where you live. You should plant at least six weeks before the first frost to give the tree time to settle in, so the earlier frost arrives in your area, the earlier you should plant. The Davey Tree Expert Company says that as long as there are leaves on the trees in your area, and the soil is 50 degrees F or warmer according to a soil thermometer, you should be safe.
To continue reading, click here.