Posted: October 18, 2021
The NBA Cleveland Cavaliers and The Davey Tree Expert Company have teamed up for a new multi-year agreement highlighted by an impactful community initiative to help make Northeast Ohio greener. Through the league-wide "Trees for Threes" program, the two Northeast Ohio-based organizations have made a mutual pledge to plant one tree in their home region for every three-pointer made during the upcoming 2021-22 season.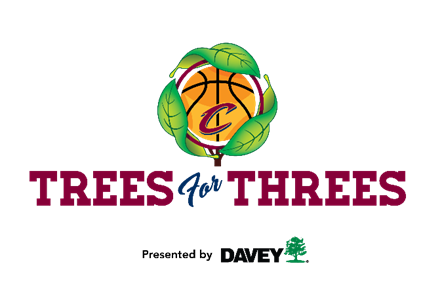 Davey Tree employees, Cavs executives and Legends, as well as other dignitaries and community leaders will gather in the coming months for the inaugural tree planting event. The exact location of the event, as well as additional details regarding how the trees will be distributed will be announced later.
"We couldn't be happier to find such an organic and parallel-minded partner in Davey Tree for such an impactful community initiative," said Nic Barlage, Rock Entertainment Group President and COO. "'Trees for Threes' is a platform that has had a lasting and significant impact on our region over the years and we're excited to keep the tradition going this upcoming season and beyond alongside our partners at Davey." 
More than 2,100 trees have been planted in Northeast Ohio by the Cavaliers and their associated partners, including Davey Tree, since the "Trees for Threes" program started in 2015. This number will continue to grow exponentially this season and over the span of the new multi-year partnership between the Cavs and Davey.
"Davey Tree's employees know that trees make a difference – in our lives, in our neighborhoods and in our world -- and we are so pleased to be part of this initiative that brings more trees to areas in Northeast Ohio," said Sandra Reid, vice president of corporate communications and strategic planning administration at Davey Tree. "This season we are hoping that the Cavs make lots of threes, so we can plant lots of trees." 
ABOUT CLEVELAND CAVALIERS  
The Cleveland Cavaliers won the NBA Championship in 2016 while also taking the Eastern Conference crown in 2007, 2015, 2016, 2017 and 2018. The team plays at, and also operates, the newly transformed, publicly-owned Rocket Mortgage FieldHouse in downtown Cleveland, Ohio. The Cavaliers and Rocket Mortgage FieldHouse are part of Rock Entertainment Group. The Group also includes the Cleveland Monsters of the AHL, the Cleveland Charge of the NBA G League, Cavs Legion of the NBA 2K League, Legion Lair Lit by TCP home of Cavs Legion in Cleveland, and Cleveland Clinic Courts - the Cavaliers' training and development center in Independence, Ohio.  The Cavaliers are regularly recognized for their extensive community support and engagement programs and contributions, workplace diversity and inclusion leadership, and an on-going economic impact that now registers in the billions of dollars locally. Dan Gilbert is Chairman of the Cleveland Cavaliers. Gilbert and his family of companies have now invested over $2.0 billion in Cleveland. Gilbert is also Founder and Chairman of Rocket Mortgage, the nation's largest mortgage lender, and Founder and Chairman of Rock Ventures LLC, the umbrella entity for his portfolio of business and real estate investments. Len Komoroski is the Rock Entertainment Group CEO and Nic Barlage is the Rock Entertainment Group President and Chief Operating Officer. The Cavaliers team is led by General Manager Koby Altman and Head Coach J.B. Bickerstaff. The Cavaliers and Rocket Mortgage FieldHouse provide fans the best experience in the NBA with its extensive and stunning array of amenities and technology and signature, electrifying game presentation.  
ABOUT THE DAVEY TREE EXPERT COMPANY
The Davey Tree Expert Company provides research-driven tree services, grounds maintenance and environmental consulting for residential, utility, commercial and environmental partners in the U.S. and Canada. Established in 1880 and headquartered in Kent, Ohio, Davey Tree is in the top 10 largest employee-owned companies in the U.S. and has more than 10,000 employees who are driven to create and deliver sustainable solutions. Discover your Davey career and apply today.