The Cleveland Cavaliers and The Davey Tree Expert Company honored their annual "Trees for Threes" promise through a tree planting event at Brookside Reservation in the Cleveland Metroparks on November 1, 2022.
Posted: November 03, 2022
The Cavaliers and Davey Tree's "Trees for Threes" promise is an initiative in which the two Northeast Ohio-based organizations mutually pledged to plant one tree in their home region for every three-pointer made during the Cavs season. The Cleveland Metroparks are one of the more than 20 beneficiaries of the Cavs and Davey Tree partnership in the 2021-22 season, which provided a total of 953 trees to various Northeast Ohio communities.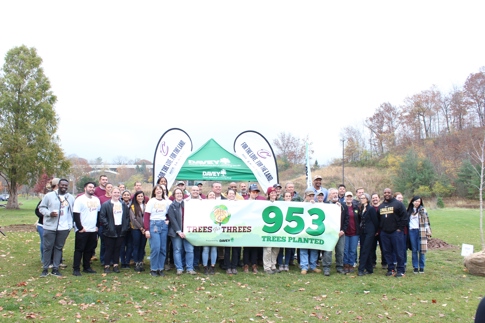 On Tuesday, executives and volunteers from the Cavs, Davey Tree and Cleveland Metroparks gathered to plant one large ceremonial Buckeye, 20 smaller Buckeyes and 10 Swamp White Oaks at Brookside Reservation as a part of the 120 total trees committed to the Cleveland Metroparks last season. To kick off the plantings, Cavs emcee Ahmaad Crump led a press conference in the park's pavilion, introducing Cavs CEO Nic Barlage, Davey Tree Chairman, president and CEO Pat Covey, City of Cleveland Councilman of Ward 13 Kris Harsh, Cleveland Metroparks CEO Brian Zimmerman and City of Cleveland Director of Sustainability and Climate Justice Sarah O'Keeffe to give remarks about the initiative, which has provided more than 3,000 trees to Northeast Ohio since the program's inception in 2015.
Following the press conference, the volunteers from all three organizations participated in a ceremonial planting of a large Buckeye. The volunteers then broke off to plant the 30 smaller trees around the park.