Posted: October 11, 2019
Kent, Ohio – The Davey Tree Expert Company is proud to announce the promotion of Brian Baker to Market Manager of the Bay Area.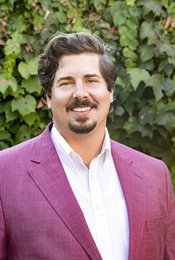 Baker will remain based in the Bay Area while augmenting Davey Tree's efforts to improve safety, employee engagement and the client experience in Davey's local offices.
"Brian's unique style of management and competitive spirit will elevate Davey's presence in one of the most dynamic regions in the country," said Jason Evans, operations manager, Western operating group, Residential/Commercial services. "Not only will Brian continue engaging with Davey employees to ensure the highest level of professionalism and safety every day, but clients will notice his presence through higher quality of services overall."
Baker served as district manager since 2014, assistant district manager from 2012 to 2014 and sales arborist from 2010 to 2012 in Davey's San Francisco office. His territory is part of Davey's R/C services Western operating group.
Baker joined Davey in Menlo Park as an accelerated sales trainee. He is a graduate of Brigham Young University, where he earned a bachelor's degree in landscape management. Baker then transferred to San Francisco where he became an International Society of Arboriculture Certified Arborist®. He was promoted to sales arborist after graduating in 2010 from the Davey Institute of Tree Sciences, Davey's flagship training program in biological sciences, safety, tree and plant care and management techniques.
With more than 10,500 employees throughout North America, The Davey Tree Expert Company provides solutions for residential, utility, commercial and government clients. Rooted in research, the company's vision is to achieve balance among people, progress and the environment. Tree experts since 1880, Davey provides diversified tree services, grounds maintenance and environmental services. Celebrating 40 years of employee ownership, Davey is one of the largest employee-owned companies in the U.S. and is headquartered in Kent, Ohio. Want to join us? Discover your Davey career, and apply today.