Posted: December 17, 2019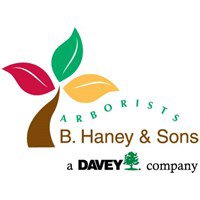 Kent, Ohio – The Davey Tree Expert Company has announced the acquisition of certain assets of B. Haney & Sons Tree Service based in the greater Chicago area.
B. Haney & Sons provides residential and commercial tree care, plant health care and wood waste recycling services at its Lombard, Illinois, office. The firm has 12 employees who will continue with Davey in the operation, which will become the Davey Lombard Residential/Commercial services office.
Geoff Cowan, operations manager, Davey South Chicago R/C operating group, said B. Haney & Sons brings additional resources to serve existing clients of Davey's several Chicago-area offices.
"Clients of Davey and B. Haney will benefit from the expanded service capabilities they offer," Cowan said. "The technical knowledge, equipment, facilities and rich arboricultural history of B. Haney are a great complement to our existing offices here."
Boyd Haney founded the company in 1940 as American Tree Service with a partner, whom he later bought out. He renamed the business B. Haney & Sons. It continued as a family owned enterprise until joining the Davey family of brands.
Former owner David Haney will serve as district manager of the new Davey Lombard office.
With more than 10,500 employees throughout North America, The Davey Tree Expert Company provides solutions for residential, utility, commercial and government clients. Rooted in research, the company's vision is to achieve balance among people, progress and the environment. Tree experts since 1880, Davey provides diversified tree services, grounds maintenance and environmental services. Celebrating 40 years of employee ownership, Davey is one of the largest employee-owned companies in the U.S. and is headquartered in Kent, Ohio. Want to join us? Discover your Davey career, and apply today.