In this Inside Climate News article, Dan Herms, vice president of research and development, shares information about beech leaf disease.
Posted: June 12, 2023
Lovers often carve their initials in the smooth gray bark of beech trees. Now those beloved trees—which can reach nearly 40 meters tall, live up to 400 years and are among the most abundant forest trees in the Northeast and Midwestern U.S.—are increasingly threatened by beech leaf disease.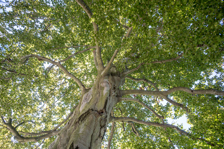 In 2012, a Greater Cleveland naturalist noticed odd, dark, leathery stripes between some veins of a few beech leaves. Since then, beech leaf disease has spread faster and faster around the lower Great Lakes and the Northeast, ravaging one of the region's most vital trees. 
In 2019, the disease was found in four states and Ontario. And by 2022, as both the disease and its detection rose, it spread to 12 states, plus Ontario and the District of Columbia.
"'22 was the wakeup call for any dismissiveness," Robert Marra of the Connecticut Agricultural Experiment Station said. 
To read what Dan has to share on beech leaf disease, click here.