Posted: February 17, 2020
In this Independent Tribune article, Matt Betz of Davey's Charlotte office North Carolina, discusses the safest ways to address damaged trees after a bad storm.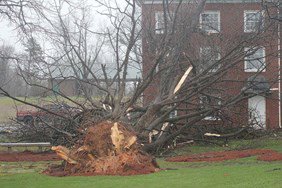 Think twice before cutting trees knocked down by last week's severe weather.
Multiple locations in the area still have some trees leaning or broken, and it could be tempting to take care of that on your own. But Matt Betz of Davey Certified Arborists urges everyone to be careful before making any decisions about tree damage in and around their property.
"It's not something a layman should try to address, just because there's so many different factors even on our end," he said. "There's trees, they look fine, but they may just have fallen into a neighboring tree and a homeowner thinks they can go out there and cut it down, but there can be different pressure points to where something can come loose when you don't expect it to, and if you're not trained and prepared to know what to look for, you can put yourself in a precarious situation."
For more information, click here.