Posted: November 19, 2019
In this Philadelphia Inquirer article, Jason Parker, district manager of Davey's Horsham office, addresses the question, "Why are there so many acorns this years?"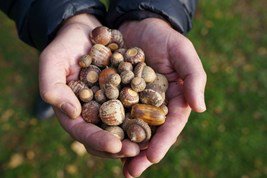 Jason Parker has witnessed the fallen masses, and so have his customers.
"We have noticed quite a crop of acorns this fall," said Parker, district manager for the Davey Tree Expert Co. branch in Horsham.
That evidently has been the case regionwide and in other parts of the country. Why? One popular hypothesis among experts is that we are witnessing a vast conspiracy of the oaks.
Turns out that acorns aren't merely the seedlings of future generations of oaks. Those enigmatic ovular nuts — the equivalent of filet mignon and buttered lobster tail for deer and other animals — represent the seeds of a fascinating cosmic enigma.
To read more, click here.