Posted: January 27, 2021
Written by: David M. Kunz, MS, PWS, Senior Project Manager / Ecologist.
Many folks think that come the late fall and winter months outdoor environmental and natural resource investigations come to a halt due to the end of the growing season and cold weather; actually, nothing could be further from the truth in the Mid-Atlantic region. The leaves fall from the trees, vegetation dies back, and some wildlife species go into hibernation, but the performance of wetland delineations can often continue to proceed during the winter months.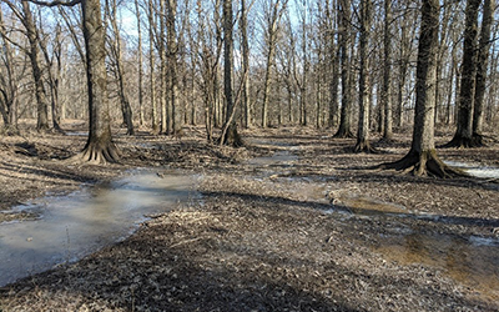 At Davey Resource Group (DRG), our team of scientists are highly capable of surveying for, and delineating wetlands year-round. In fact, winter is an opportune time to survey for and delineate wetlands for several reasons. First, once the leaves fall from trees and shrubs, and herbaceous vegetation dies back, forested settings become much easier environments to work in. Winter conditions allow the wetland delineators to see a site more clearly and to navigate a site more quickly and efficiently. Similarly, forested settings become much easier environments for land-survey crews to locate delineation flags. Winter surveys provide for more clear line-of-sight opportunities for conventional land-survey methods and a much clearer view of the sky for modern high-precision GPS land-survey methods. Thus, winter delineation is a win-win that can often translate into client savings.
Determining the three-parameter criteria of wetland delineation (vegetation, soil, and hydrology) in winter requires an experienced skill set that DRG scientists possess. While soil and water can freeze during the winter months, this is often a temporary condition (e.g. lasting a few days to a few weeks) in the northern Mid-Atlantic region. Vegetation, on the other hand, often dramatic changes in appearance in the winter. While some herbaceous vegetation dies back completely, many of the hardy dominant species (e.g. goldenrods or milkweeds) remain standing and identifiable through the winter. Trees and shrubs can be identified by the trained eye using bark, twigs, buds, and persistent seeds or leaves. While winter plant identification is no doubt more challenging, it is not a significant limiting factor for winter wetland delineation. Barring significant snowfall and frozen ground, wetland delineation can be performed through the winter by DRG scientists.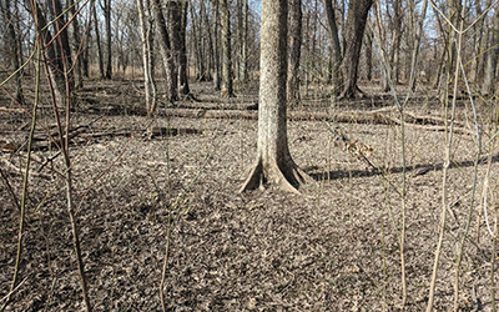 If you are planning a project in 2021 and are anxious to get the ball rolling, don't wait until spring when scheduling your delineation may be complicated by time-sensitive threatened or endangered species surveys. Our scientists have all the qualifications and experience to delineate wetlands and assist in obtaining permit authorizations for your projects year-round.
Mr. Kunz is an Ecologist with DRG who specializes in wetland delineation, field botany, rare plant surveys, and environmental permitting.

---
In November 2019, Amy S. Greene Environmental Consultants, Inc. joined Davey Resource Group, Inc. (DRG) as a wholly-owned subsidiary and will be doing business as Amy Greene Environmental, a Davey Company. We are thrilled to expand our team of experts with additional resources and opportunities to support you.