Posted: June 13, 2018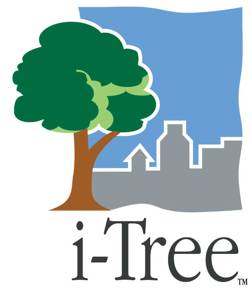 It's hard to believe that i-Tree has been out for 12 years now! That means that when it was released in August of 2006 that this year's class of college graduates were only 10 years old. Since i-Tree's initial release the tools have been updated, added to, and gone international. As urban foresters we need to be continually educating ourselves and the next generation.
In our last newsletter Anne Fenkner did a great job at illustrating how i-Tree is just as important as a shovel and how easy it is to use. What started out as a pretty basic tool with 4 main applications aimed at a City Forester has evolved into a complete suite of software with apps aimed at homeowners, foresters, planners, non-profits, international agencies, etc. When I have the privilege of teaching or talking about i-Tree I like to illustrate that i-Tree can be used at the Parcel, City, and Regional level depending on your goals and desired outcomes.  
Parcel Level
Typical User: Homeowner or Tree Care Professional
i-Tree Design - A simple tool that allows you to use Google Maps to inventory trees around your property (or anywhere you want) and to see the benefits of those trees. Design also allows the user to project out those benefits for up to 99 years in order to see future and lifetime benefits.

i-Tree Species - This tool enables homeowners to select a tree based on the importance of various environmental benefits.

i-Tree MyTree - A quick and easy way for homeowners (or tree care professionals) to calculate the benefits of trees in the landscape around them. Imagine using this tool when trying to convince a homeowner to invest in pruning or plant health care instead of topping or removal!
City Level
Typical User: City Forester or Planner
i-Tree Eco - This is the original powerhouse of the i-Tree software suite. i-Tree Streets merged with Eco several years ago to offer the best of both worlds. With this tool one can do a sample or complete inventory of trees and calculate the forest structure and environmental benefits.

i-Tree Harvest - A new tool that facilitates estimates of carbon storage for harvested trees.
Regional Level
Typical User: City/State Forester or Planning Commission
i-Tree Landscape - Web-based tool with preloaded land cover mapping information to enable for quick assessments of tree canopy & impervious surfaces as it relates to demographic information. Can also calculate the benefits of the tree canopy and run scenarios for prioritized tree planting and preservation efforts.

i-Tree Hydro - Although this model is currently in development, it provides a good estimate as to the effects of change on the urban tree cover to streamflow and water quality in a defined watershed area.

i-Tree Canopy - A very quick and easy way using randomly placed points on existing aerial photography to estimate the amount of tree canopy cover. This tool can be used along with historical imagery to also calculate the change in canopy over time. While it doesn't provide a map, it does provide accurate information for setting canopy goals and and estimating air quality benefits.
So, did you know i-Tree had all those tools? You may have picked up that several of these tools can be utilized for a wide variety of purposes. I encourage you to get creative with it!

Are you interested in learning more about i-Tree? There are a lot of ways to get more information starting with signing up for the i-Tree newsletter and attending one of the many free educational webinars available. If you are looking for a more hands-on or customized training solution, be on the lookout for regional workshops in your area. Here is an example of a workshop DRG hosted in conjunction with the Missouri Department of Conservation and another example of a similar workshop with the Georgia Urban Forestry Council.