Posted: December 10, 2019
Trees are a critical player in the overall health of the environment. From aiding water conservation to increasing oxygen production and accelerating carbon dioxide reduction, trees offer a long list of environmental benefits, and, by proxy, many benefits for our communities. To protect a community's tree resources, many cities and towns are enacting ordinances that require a tree survey or tree assessment to be completed before tree removal permits will be issued. If you are a developer or a contractor, read on to understand the impact these ordinances can have on your development projects.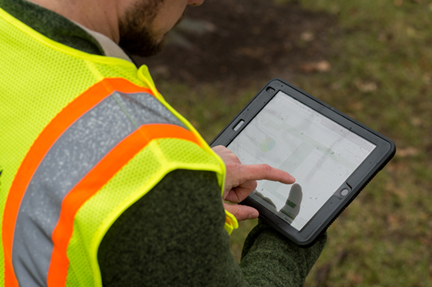 Perhaps you've heard of tree inventories, but you might be wondering what a tree assessment is. The distinction is simple. An inventory looks at a large-scale area, mostly comprised of public land (such as a city or county), while a tree assessment is a smaller-scale project on private land. While tree inventories are often used to inform management plans and maintenance budgets, data from tree assessments are used to satisfy an ordinance requirement, most often involving the removal of trees while developing land.
Such assessments are governed by city- or village-required tree ordinances that define protocols for the protection of natural areas and can inform permit fee schedules based on species targeted for removal. Assessments are usually performed for a development or engineering company on a wooded lot that is going to be developed. It is important to note that a tree assessment is not as standardized as land surveys, which are conducted by state-licensed surveyors. Required data for a tree assessment often varies from city to city.
What to Expect from a Tree Assessment
A tree assessment usually collects tree location, species types, trees' diameter at breast height (dbh), and overall condition. Trees are commonly tagged with metal numbered tags, and deliverables might be a PDF map, CAD file, or shapefile of the data. In some circumstances, it may be appropriate to have trees first located by a professional surveyor and then assessed by a certified arborist. The assessment can inform the tree removal permit fee, according to the tree(s) identified for removal. For example, a city might have a sliding fee schedule based on the ecological value that different species provide the community.
Finding a Tree Assessment Partner
While sometimes not explicitly required by ordinances, we always recommend hiring a certified arborist who can ensure the highest level of accuracy and resultant compliance with local ordinances. Also, it is important to verify that your arborist can provide GPS or CAD maps.
DRG can help with conducting an assessment and the next steps after an assessment is done.