Posted: May 27, 2021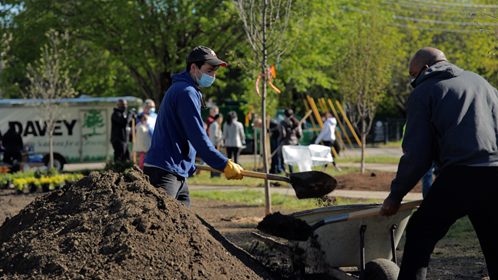 A successful urban forestry program requires a strong connection between the organization running the program and the community the program serves. Without that relationship, community members don't always grasp the importance of an urban forest, and urban forestry program initiatives may suffer as a result.
Volunteers, if properly engaged, promote the connection between an urban forestry program and the community well beyond the official channels. By educating the members of a community about trees and their benefits through direct participation in events that promote a healthy urban forest, program organizers build a team that can support them with more than just planting trees.
Connecting Community and Nature
Andrew Smiley, executive director of the non-profit organization TreeFolks in Austin, Texas, engages hundreds of volunteers annually, not only through tree plantings, but also tree distribution events, tree care programs, fundraising events, and much more.
"Besides the labor they provide, which is still critical to our large-scale work, we consider volunteerism to be the first stop in our pipeline of support," Smiley says.
By volunteering, participants are engaging in an impactful effort while still having fun. That first touch, Smiley says, leads to volunteers building a relationship with individuals who are responsible for TreeFolks' newsletters and fundraising appeals. Volunteers also share their experiences with family and friends and help build their social media following among their own networks, a ripple effect that creates further outreach.
"Volunteers learn a lot when they come to do plantings or other events, and they themselves become knowledgeable stewards of the urban forest," Smiley says. "They may develop a new understanding or appreciation for trees in their yard, in a park, and by the local waterway and even gain an understanding in how to help care for them."
Not only are volunteers stewards, Smiley says, but they also become advocates. "When we seek our city support for tree ordinances or financial support for our programming, there are a number of people who understand our work and the value of trees that can be vocal to decision- and policymakers," he says.
Staying Engaged During A Pandemic
Engagement is key to a strong volunteer pool. The more useful volunteers feel, Smiley says, the more likely they are to stick around for future opportunities. "We will provide very good instruction on how to do the various tasks volunteers are involved in," he says. "We are very specific and particular about instruction."
Smiley also says recognizing how impactful volunteer work is helps retain their workforce. "We share details about what trees volunteers are planting will actually do," he says. But above all else, feeling safe is the biggest key to retaining volunteers in the current environment.
The pandemic and the resultant stay-at-home orders brought an upset to the perception of public safety. Despite the setback, TreeFolks found ways to remain safe while still retaining volunteers. Rather than large-scale tree plantings or distributions, volunteers were able to pick up trees to plant themselves or gather the data necessary, such as addresses and phone numbers, to enable tree deliveries rather than hold a giveaway event with lots of people.
With pandemic restrictions lifting, Smiley says he's "cautiously optimistic" about the future of volunteerism. "I get the sense as we get on the other side of the pandemic that people are eager to get out and do something," he says. "Folks have gained a new appreciation for their natural spaces during the pandemic. We expect a new and heightened interest in contributing positively to those public spaces, and TreeFolks will be ready to welcome them back."