Posted: March 15, 2021
This profile is the first of DRG's series that highlights leaders in urban forestry, sharing stories from their experiences in the industry, and how they spread their passion for trees.
"The California naturalist told us about how they did a study where they put these microphones on trees and carved them, and you could hear them screaming. That gave me an affinity for trees."
That is how Carlos, director of conversation programs at the Los Angeles Conservation Corps' Compton site, describes how his love of arboriculture started.
As the director of conservation programs, Carlos mixes his passions for arboriculture and his community to create programs for the youth in Compton to introduce them to the urban forestry industry.
In his role, Carlos also is responsible for contract work, site administration, finances, project development, training, and managing program activities. His focus is on Compton Creek Natural Park, Compton's only natural park, where he manages the trees and maintenance.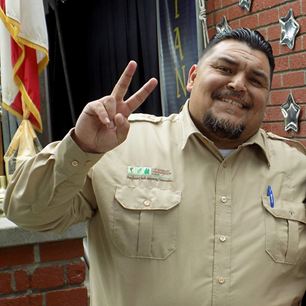 Carlos's love of arboriculture started when he was a sophomore in high school, working part-time doing maintenance and landscape for the school. He would wake up at 6 a.m. to clean the grounds of litter and debris before school started. On the weekends, he would work on landscape projects around the school's grounds.
"One of the things I fell in love with right away was planting trees," Carlos says. "I thought it was really cool to be part of something that would be there years later."
At 19, Carlos joined the LA Conservation Corps and worked part-time as a team leader with the Clean and Green Program where middle school students participated in plantings and other beautification projects, like litter cleanup and graffiti cleaning. At one of their training days, Carlos joined program participants on an educational hike that taught the group about native plants and trees.
As he moved up in the LA Conservation Corps, Carlos learned more about the science of trees and eventually became an arborist. He attended the Municipal Forestry Institute (MFI), "and it just blew up from there," he says.
Planting the Seeds of Future Urban Forestry Leaders
The LA Conservation Corps is a youth development agency, and an aspect of Carlos's job he says excites him the most is "seeing the lightbulb go off in a young person."
"You see a young person who has challenges in their life turn a corner, get an understanding of why they're being asked to come to work, come on time, learn, and be a sponge," he says. "When they get it, it's motivating."
Carlos has even started to pass down his love of arboriculture to his children, who join him at the LA Conservation Corps on weekends. When they were old enough, they started to participate in tree plantings. His son was recently accepted to Oregon State University for urban forestry, and although he ultimately decided to study a different subject, Carlos says, "to see him say that was something he's interested in, that's pretty cool."
Connections with community members who are both involved in the LA Conservation Corps's programs and outside of it are vital to successful urban forestry programs, Carlos says. "It's great to understand the science behind [urban forestry], but you have to understand where people are coming from," he says. "If we plant this many trees, we can make such an impact, but you have to understand where you're planting and the deficiencies those communities have."
Be good, stay green, and God bless
"Be good, stay green, and God bless" is Carlos's catchphrase. On top of his duties at the LA Conservation Corps, Carlos is a part-time minister at his church. He uses his faith to lead by example. "We have to find common ground, be willing to roll up our sleeves and model behavior, but also be willing to listen to your coworkers, your employees," he says. "They might have an idea you haven't tried yet. We need to have a diversity of thought and diversity of action. It's not our way or the highway all the time."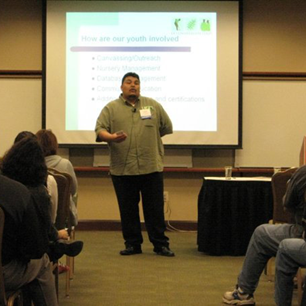 When meeting other industry leaders at various conferences, like MFI or the Partners in Community Forestry Conference, Carlos found many peers shared the same sentiment across the board. "[There is] a willingness to share insight," he says. "Walt Warriner [of MFI] taught me the value of collaborating and persistence."
But one aspect he says the urban forestry industry needs help with is diversity. "I'm a first-generation Mexican-American Chicano," he says. "The industry is aging out, but there aren't enough people who look like me or African American people [coming in]. The industry wants to diversify, but we haven't figured out how to get the word out. That's what I'm trying to do, get the word out about this beautiful industry and [inform] them of this industry that's so rewarding."