Posted: May 27, 2021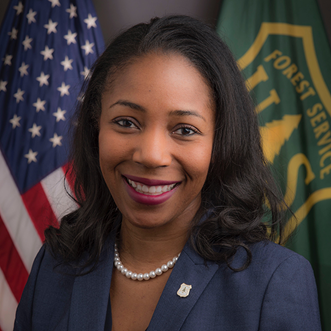 Growing up in rural Louisiana and an active participant in the local 4H club, Beattra Wilson always felt connected to nature. When deciding her career path, Beattra wanted to work in a city but still maintain her connection to the environment like she had throughout her childhood. This combination of being a nature lover and city-dweller led Beattra down the path of urban forestry at Southern University in Baton Rouge, Louisiana, which is home to the first urban forestry bachelor's degree program in the U.S.
Following her graduation, Beattra became an urban forestry trainee at the U.S. Forest Service office in Atlanta in 2002. Since joining the U.S. Forest Service, Beattra showed her dedication to urban forests throughout our nation's communities. In 2020, she became the assistant director for the Urban and Community Forestry Program for the U.S. Forest Service.
"There's a lot of energy and excitement in this space," Beattra says.
Beattra has had what she describes as a "unicorn of a career" in urban forestry. While she holds a degree in urban forestry, she is not a certified arborist. "I wanted to know the business of urban forestry and natural resources," she says. "How to get resources to communities that I've seen systematically underrepresented."
The Urban and Community Forestry Program that leads in the U.S. Forest Service is experiencing a historically high level of funding in 2021. The Urban and Community Forestry Program has a list of priorities around equity, climate adaptation, and environmental justice that serve as tailwinds to justify sustainable relationships in cities and towns.
"I'm working hard to lead a program that is reflective across the spectrum—through the workforce, delivery of the program, and the policy it upholds—and that is delivered through a lens of vulnerability and sustainability for the well-being of the people living in these urban communities," Beattra says.
Inclusivity is of the utmost importance in the urban forestry industry, Beattra says. "I did not have a Beattra to look up to 20 years ago, but the field has become so much more inclusive," she says. "We have a long way to go, but I encourage more and more young people to explore it. Our primary client is those who live in urban communities, and if we look at the demographic, we need to reflect the representation they need to see."
Start 'Em When They're Young
For Beattra, her early start in getting to know trees and natural resources through her personal life experiences was a solid foundation to determine her future in urban forestry. In her opinion, the earlier the introduction, the better.
"A potential leader in urban forestry is a 4H agent who engages with a child as early as fourth or fifth grade and has opened their eyes… to possibilities beyond their wildest dreams: That they can work in forestry in urban areas," Beattra says. "When you're introduced to these concepts in a setting where you're learning and going to [fun] places like county fairs, it's a continuous and sustainable relationship that works. It helps us build a longer and more confident pipeline of talent."
To further this commitment to creating a pipeline of excited future leaders, the Urban and Community Forestry Program designed an environmental justice academy for historically black colleges and universities (HBCUs) that creates a space to encourage young people to think about how to advocate for their community's greenspace.
"I want us to be inclusive, leading the way for other conservation fields to adapt and adopt our prioritization around tree and green space equity," Beattra says. "It's not just about trees."
---
This profile is the second of DRG's series that highlights leaders in urban forestry, sharing stories from their experiences in the industry, and how they spread their passion for trees.