Posted: March 04, 2019
It won't be long before the last chill blasts of winter give way to the explosive growth of spring. Doing spring landscape tasks properly now will help keep trees and landscapes healthy and under control throughout the summer months. Let's take a look at some of the essential things property owners should be thinking about at this time—along with some tips for a successful outcome.
Invasive Species Control
Getting a jump start on invasives as soon as they come up is the best way to keep them in check. In wet locations, there are four main invasive species in our area. These include (in order of emergence): reed canary grass, cattails, purple loosestrife, and phragmites (common reed). Removal of woody invasives such as honeysuckle and multiflora rose typically takes place during the winter. However, if it hasn't been done yet on your property there is still time to do it now in very early spring.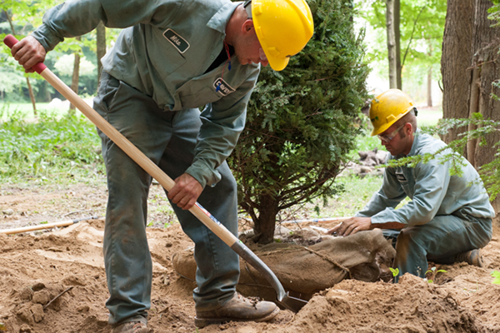 Tree Planting
It is tempting at planting time to choose the biggest trees possible. But for healthier, more resilient trees it's better to select smaller ones. A 1" caliper tree needs less water to establish and is easier to care for.
If possible, visit the nursery to inspect stock in person. If this is not possible, try to work with a company that will allow you to reject unsuitable specimens. Look for young trees that have as much of their root system intact as possible. Avoid anything that is rootbound (with circling or matted roots) or that shows signs of pests or disease. If you are using containers or ball and burlap, you should see more soil than roots.
Tree Pruning
Besides proper pruning techniques, you need to know two things when it comes to pruning: which of your trees need to be pruned, and what your pruning goals are.
If you have an inventory of the trees on your property, make sure it is updated and all work is properly logged. Take note of dead and dying trees, as well as those with broken branches or showing signs of disease.
Pruning goals include:
Pruning for clearance. Keep signs, streetlights, entrances, sidewalks, and crossroads clear of branches to ensure adequate visibility and prevent accidents.
Pruning for tree health. Remove dead and dying branches. Any woody material showing signs of disease should be disposed of properly after pruning to prevent spread of disease.
Structural pruning. Young and mature trees need to be pruned appropriately to support optimal growth and form.
Mulching
There are many reasons to mulch a tree, including weed suppression, water conservation, and aesthetic appeal. Standard wood mulch enriches the soil, retains moisture well, and helps moderate soil temperature. When you apply mulch, take care not to let it touch the trunk. Think "crater," not "volcano."
The tricky thing about tree management in spring is that so many things need attention at once. We can help.